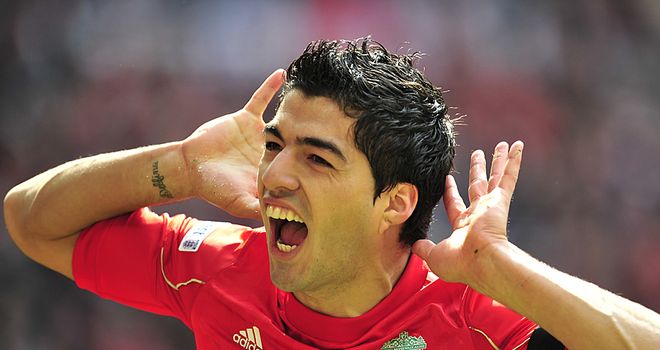 Luis Suarez: Received praise off Jamie Carragher after notching against Everton
Jamie Carragher believes it is "vitally important" to keep Luis Suarez at Anfield, insisting he would not swap the striker for any other player in England.
The Uruguay international has expressed his desire to extend his stay with the Reds despite a testing first full season which saw him serve an eight-match ban after being found guilty of racially abusing Patrice Evra last October.
But the season has also seen lots of high points, including scoring Liverpool's all-important equaliser in Saturday's FA Cup semi-final victory over Everton - his 14th goal of the campaign.
Liverpool vice-captain praised the 25-year-old's contribution to the cause as Kenny Dalglish's side chase two trophies this term.
"I thought he was brilliant. Our best player. I wouldn't swap him for anyone in the league."
Jamie Carragher
Quotes of the week
"I thought he was brilliant. Our best player. I wouldn't swap him for anyone in the league," said Carragher.
"He is a fantastic player and I'm delighted we've got him and hopefully he will take that forward into the cup final.
"It is vitally important (Liverpool keep Suarez). I see no reason why he would want to leave.
"He is playing well so hopefully he will sign a new contract, which he is expecting to do."
Dismissed suggestions
Suarez has previously been linked with a move to newly-rich Paris St Germain but the Uruguayan has dismissed suggestions he wants to leave Anfield just 15 months after arriving from Ajax in a £22.8million deal.
"I will continue at Liverpool. It is obvious I will continue," he said.
"I have four years left on my contract and I am very happy and content to be here and I hope to do great things."
As if to underline that, he stressed he had put the Evra incident firmly behind him, although he did hint it may have affected his form.
"I am over that. Obviously the important thing was the support from all the people and there is no need to talk about that as it is already in the past," he added.
"I have to thank the people of Liverpool for the support they have given me despite not playing at my best.
"I am accustomed to it (criticism), one just has to deal with it and face up to it."
More...